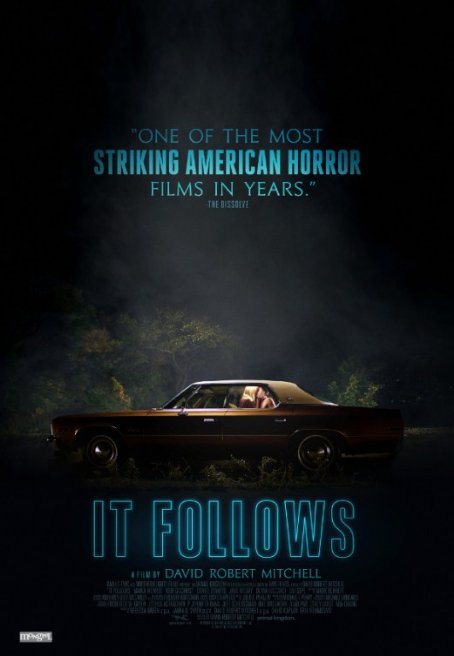 Country: USA, 2014; OT: It Follows; Genre: Horror; Director: David Robert Mitchell; Writer: David Robert Mitchell; Stars: Maika Monroe, Keir Gilchrist, Olivia Luccardi; Runtime: 100min;
Winner of (selection)
Best Film, Best Screenplay at Austin Fantastic Fest
Best Film and Critic'sPrize at Gérardmer Film Festival
Die 19-jährige Jay sollte sich eigentlich nur im Schule, Jungs und Wochenenden am See kümmern. Aber nach einer scheinbar unschuldigen sexuellen Begegnung wird sie von seltsamen Visionen geplagt. Sie spürt, dass etwas sie verfolgt, ihr auflaurt und nur auf sie wartet. Mit dieser Last auf ihren Schultern und der Hilfe ihrer Freunde versucht sie diesem Horror zu entkommen, doch dieser Horro ist nur mehr inene Schritt weit entfernt.
It Follows feierte in Cannes Premiere und wird seither auf diversen Festivals weltweit gezeigt. Die umwerfende Maika Monroe dürfte einigen vielleicht aus The Guest oder The Bling Ring bekannt sein und man wird auch in Zukunft definitiv noch von ihr hören. Präsentiert wird It Follows von Vice Magazin.
For 19-year-old Jay, fall should be about school, boys and weekends out at the lake. But after a seemingly innocent sexual encounter, she finds herself plagued by strange visions and the inescapable sense that someone, or something, is following her. Faced with this burden, Jay and her teenage friends must find a way to escape the horrors that seem to be only a few steps behind.
It Follows was premiered in Cannes and since then was screened at a lot of festivals worldwide. Maika Monroe may be known from movies like The Guest or The Bling Ring and you will definitley hear from her in the next years as well.
[youtube https://www.youtube.com/watch?v=Ymoh5SIqgtw]
Official Selection
Screening: Donnerstag, 16.April 2015
Time: 19:00

"The most clever tweak on horror conventions since Cabin in the Woods!" – Badass Digest